ALOIS KINDERMAN
---
| | | |
| --- | --- | --- |
| | | Ignatz Kindermann |
| | John Kindermann----[ | |
| | | Marie Jungwirth |
| Alois Kinderman----[ | | |
| | | Alois Kellermann |
| | Eleonora Kellermann----[ | |
| | | Maria Anna Philipp |
---

Alois Kinderman and Mary Winkelbauer wedding. June 1915. With Therese and Joseph Winkelbauer

50th wedding anniversary with Ruth Morgan, Alois Kinderman, Mary Kinderman, John Kinderman, Jenn ?, George Kinderman. At Sacred Heart Church. 1965
Alois and Mary Kinderman with grandchildren----Peter, James, Robert, Julie, Terri, Mary Lou Kinderman. 1962.

Alois Kinderman being honored for 50 years of service to the Catholic Knights. April 1966.
See also Kinderman Family Photos
Alois Kinderman was born July 29, 1890 the first child of John Kinderman and Eleonora (Kellermann) Kinderman, in Oshkosh, Wisconsin. He married Mary Margaret Winkelbauer June 23, 1915 at Sacred Heart Church, Oshkosh, WI. She was born Dec. 27, 1892 in Oshkosh. They celebrated their 50th wedding anniversary in 1965.
He had many different jobs over the years including his own grocery store. His store was at the NW corner of 9th and Ohio streets. He was in partnership with Alois Kinatader. The store only lasted a few years because of the depression and his generosity in extending credit to people that didn't keep their accounts up to date. By 1936 Alois Kinderman had his own insurance agency and Alois Kinatader was running a tavern.

He was an insurance agent for The Home Insurance Company of New York. His office was in his home. He was recognized several times for outstanding service to the company.
His home was at 726 (new numbers in 1956) West Ninth street. The lot extended all the way through to 8th street. On the back half they had a large garden where they grew their own fruits and vegetables.
His wife Mary worked at Oshkosh B'Gosh for over 25 years. She also worked at the Diamond Match Factory when younger.
---
Mary Kinderman 90th Birthday newspaper story
Oshkosh Daily Northwestern, Dec. 27, 1982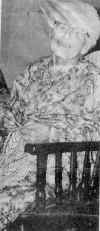 Mary Kinderman, an Oshkosh south side resident, observed her 90th birthday today.
Mrs. Kinderman was born in Oshkosh on Dec. 27, 1892, the daughter of Joseph and Theresa Winkelbauer.
In 1915 she married the late Alois F. Kinderman in Sacred Heart Catholic Church.
The couple had three sons, George and Robert, both of Oshkosh, and the late Harold Kinderman. There are seven grandchildren and two great grandchildren.
Mrs. Kinderman was employed by Oshkosh B'Gosh for more than 25 years, retiring in 1952. She was a member of the Ladies Alter Society at Sacred Heart for 67 years, and the Catholic Knights Insurance Society Branch 292.
Until the last few years she spent the summers in her large garden, and still does beautiful crocheting.
---
OBITUARY
Alois F. Kinderman
Alois (List) F. Kinderman, 83, 0f 726 W. Ninth Ave., died Wednesday at 1 p.m. at Mercy Medical Center
He was born in Oshkosh on July 29. 1890, son of Mr. and Mrs. John Kinderman, and was married here to Miss Mary Winkelbauer on June 23, 1915.
Mr. Kinderman had been employed at Paine Lumber Co., then operated a grocery store and Kinderman Insurance Agency before retiring. He was a member of Sacred Heart Catholic Church, Ushers Club, past president of Catholic Knights 292 and charter member of the Ohio Street Civic Association.
Surviving are his widow; two sons, George and Robert Kinderman, Oshkosh: one brother, John Kinderman, New Berlin; four sisters, Mrs. Rose Andrashko. Mrs. Joseph Mueller, Mrs. William Schmitz, Oshkosh and Mrs. Matt Reidi, De Pere; and seven grandchildren.
Services will be held Saturday at 9:30 a. m. at Poklasny Funeral Home and at 10 a.m. at Sacred Heart Church, with the Rev. David Cooney officiating. Burial will be in Sacred Heart Cemetery.
Friends may call at the funeral home Friday from 4-9 p.m. The rosary will be recited Friday at 7:30 p.m., at which time Knights of Columbus and Catholic War Veterans will attend.