Selwitschka
---
There is only one Selwitschka family in the 1900 census, Joseph Selwitschka. I have a report card of his daughter Aloisia Selwitschker stating that she was born August 8, 1878, in Hohenröhrn, Bavaria. She did very well in weekday school receiving all A's and B's. The school was in Mauth and she attended from May 5, 1884 to May 1, 1891. She is being released for weekend school. Mauth is in the diocese of Passau. I also have a confirmation certificate of Aloisia's dated the 14th of July, 1890. Aloisia is the daughter of Joseph and the sister to my great grandmother Theresia Selwitschka Winkelbauer.
Later a letter was sent to Aloisia on December 6, 1893 from Hohenröhrn by Kreszunz Krikl, who claims "to be your mother who raised you from the time of her death". Other names mentioned in the letter are Schmutzen, Katherina Schuster, Franz Reidl, and Franz Krikl. Aloisia immigrated to America in 1893, the letter was sent to her at her sisters, Therese Selwitschka Winkelbauer, address. Aloisia married Leonard Seibold in Oshkosh in 1898. They were both dead by 1904. Aloisia in 1902 and Leonard in 1904. They had two children Leonard (1899-?) and Otto (?-?). Below is a photo of her brother John and Francis Selwitschka and their children John, Therese, Mary, and Francis in the buggy. The man in the center is Leonard Seibold and you can barely see the head of Aloisia behind the fence next to him. They are in front of John's house on Ninth Street.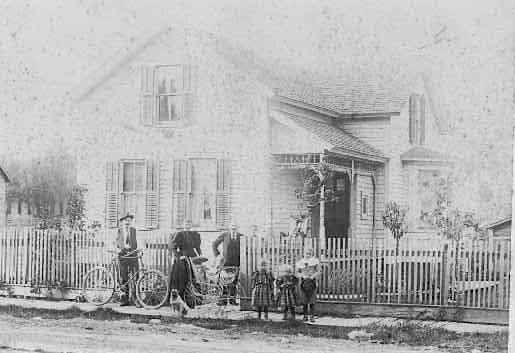 JOSEPH SELWITSCHKA
---
Father of Theresia who married Joseph Winkelbauer
He lives at 639 Ninth St. with his second wife, Aloysia Blechinger and their granddaughter Louise Heidl. He claims Austria and she claims Bohemia. He arrived in 1885 and she in 1886. Per 1900 census.
Joseph was born March, 1843 and died April, 1921. He married Aloysia Blechinger, who was born June, 1841 and died May, 1911. The first may have died in Europe. She was Elizabeth Schoettl.
But this is very confusing on the 1900 census it is written that her name is Petronella.
CHILDREN
children
John, Therese, Mary, and Francis
Marriage Record
Heidl, Abel Selwitschka, Barbara 6 Sep 1886 5 180 596
Laborer; Bohemia Bohemia Oshkosh
Heidl, John Selwitschka, Joseph John Harmus
Kreiner, Mary Schoettl, Elizabetha Mary Schwartz
Declaration of Intention for Lucas Stockinger
STOCKINGER, Lucas           1041  8th St., Oshkosh           26 Oct 1908
  152    42  Laborer           17 Oct 1866  Inmergefeld, Austria
 Hamburg           America        20 Apr 1907   5'4"  174  Brown   Black
Naturalization Petition for Lucas Stockinger
STOCKINGER, Lucas         1041  8th St., Oshkosh      Laborer
  17 Oct 1866   Inmergefeld, Austria
   9 Apr 1907  22 Apr 1907   Hamburg - NY     Amerika
  26 Oct 1908  #152                    28 Nov 1913    586
Mary Selwitschka - Stockinger   Frien ?(Freyung)?, Germany;  Oshkosh
  Mary           18 Oct 1890  Egon, Germany;  Oshkosh
  Bertha         2 Feb 1895  Hultoinore, Germany;  Oshkosh
  Josef         12 Mar 1898  Beruried, Germany;  Oshkosh
  Katherine      15 Nov 1899  Penzberg,    "         "
  John           21 Apr 1903     "         "         "
  Frank           4 Jan 1907     "         "         "
Herman Steckbauer, Merchant, 1044  6th St., Oshkosh
Paul Baldor, Carpenter, 606 Dakota St., Oshkosh
This family moved around a lot, as can be seen by the different birthplaces of the children.
Marriage Record
Winkelbauer, Joseph Selwitschka, Theresia 1 Jul 1888 5 169 532
Laborer; Bohemia Bavaria Oshkosh
Winkelbauer, Raymond Selwitschka, Joseph Joseph Nigl
Schlohofer, Theresia Blechinger, Louisa Mary Seibold
Marriage Record
Seibold, Leonard Selwitschka, Elisabeth 25 Apr 1898 6 227 114
Laborer; Bavaria Mauth, Bavaria Oshkosh
Seibold, Sebastian Selwitschka, Joseph Lawrence Schmidt
Deibler, Maria Blache, Elisabeth Frances Neustifter
Declaration of Intention for Leonard Seibold
SEIBOLD, Leonhard 9710 18 Oct 1892 Germany 1871 Balt. May 1883

Joseph 1879-1898 Yellow fever, Spanish American War, Cuba, 2nd Wis. Regt., Company B - F, 38 volunteers died of disease but no war dead.
---
Other Selwitschka

Adolf Selwitschka, 1903 Ellis Island immigration. 19y, farmer, from Fürstenhut, Bohemia. To see his brother Frank, in St. Paul, MN, on Minnehaha street.

Many in the villages of Mauth and Fürstenhut, Germany. See travel pages.