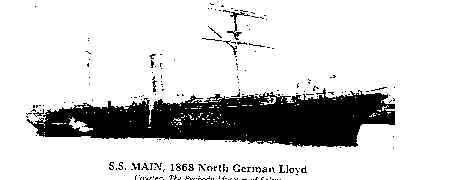 Passenger List
I have not seen the list yet but I do have some information. In Vol. 6 of Baca's Czech Immigration Passenger Lists is the listing for my gg grandfather; Ignatz Kindermann, and a listing for Wenzl Pable.
KINDERMANN, Ignatz 48, Marie 48, Albina 18, Johann 16, Louis 8, Franz 3/4; Bohemia Main 10 April 1884
The ages are correct for everyone listed here, but I don't know who Louis is. The eight year old at this time is Eleanor. I would think that all children would have come with their parents but why is she called Louis? It can't be their daughter Aloisia because she came a year earlier on the S.S. Westphalia. Also I don't believe there was another child because on the 1900 census Marie claims six children all still alive.
PABLE, Wenzl 43, Maria 35, Maria 11, Johann 10, Franz 8, Carl 6, Marie 66, Marie 24, Bohemia; Main, 10 April 1884
Maria (wife) would die before the 1900 census and Wenzel married Tekla Kutchera. Marie 66 (mother) and Marie 24 (sister?).